Aldous Huxley
Zu reisen heißt zu entdecken, dass jeder über andere Länder falsch liegt.
Around the world in a year
Details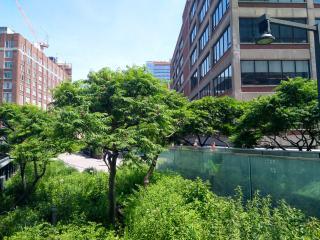 Die Highline in New York ist eine ehemalige Güterzughochtrasse auf Stelzen, die sich im Westen von Manhattan gut zweieinhalb Kilometer durch den einst schmuddeligen Meat Packing District zieht. Ab 2009 wurde die Hochbahntrasse durch eine Initiative von Anwohnern erhalten und in eine Parkanlage verwandelt. In den Gärten wird wechselnde Kunst präsentiert. Vorbild war die Promenade plantée im 12. Arrondissement von Paris. Mich erinnert die Highline auch ein wenig an die wunderbare Nordbahntrasse in Wuppertal.
Details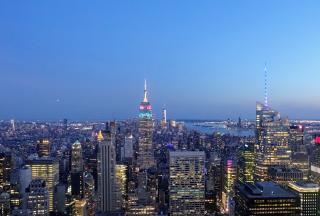 Es gibt einige Aussichtsplatformen auf den Wolkenkratzen Manhattans. Neben dem Empire State Building hat man vorallem vom Rockefeller Center einen tollen Blick auf die Skyline der Stadt. Der Vorteil hier: Man ist relativ nah am Central Park und befindet sich gegenüber vom in der Dunkelheit illuminierten Empire State Building. Das Rockefeller Center ist eine zentral gelegener Gebäudeformation mit 20 Bauten zwischen der Fifth Avenue und Sixth Avenue. Das höchste Gebäude ist das 259 Mete hohe Comcast Building: der Top of the Rock.
Details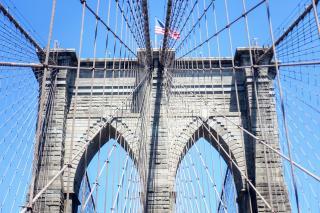 Die Brooklyn Bridge verbindet die Stadtteile Manhattan und Brooklyn. Die Brücke wurde 1883 fertiggestellt und war zu diesem Zeitpunkt die längste Hangebrücke der Welt. Wir starten unseren Spaziergang über die Brücke am frühen Morgen in Manhattan. Trotz der frühen Uhrzeit ist der kombinierte Rad- und Fußweg über die Brücke bei strahlendem Sonnenschein schon sehr gut besucht. Die Brücke hat mit den Rampen eine Länge von fast zwei Kilometern.
Details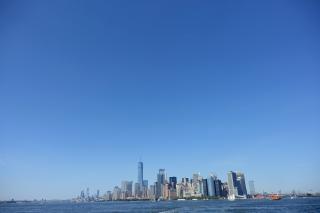 Nach 4 Stunden Flug mit einer Zwischenlandung in Charlotte landen wir um kurz nach 10 Uhr auf dem Flughafen John F. Kennedy in New York City. Die Wochenkarte für Metro und Bus kostet 33 Dollar. Die Benutzung des Airport Shuttle Trains 5 Dollar extra. Wir können unser AirBNB bei Sandra und Hans auf Staten Island erst um 16:00 Uhr beziehen. Es bleibt also ein ganze Nachmittag erste Eindrücke der Stadt, die niemals schläft zu, gewinnen. Es ist seltsam. Obwohl man noch nie hier war, scheint alles irgendwie vertraut. The Big Apple hat einen enormen Stellenwert in der populären Kultur. Man kennt die Namen der Metrostationen auf dem Weg in Zentrum.
Details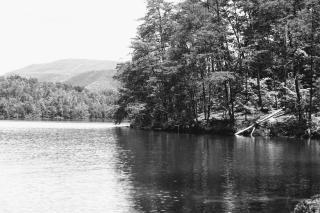 Am letzten Tag bei unseren fantastischen Gastgebern Birgit und Arnie werden wir auf eine Bootspartie eingeladen. Am aufgestauten Ocoee River im Cherokee National Forest gibt es eine Marina. Hier kann man Pontoon Boote ausleihen.
Details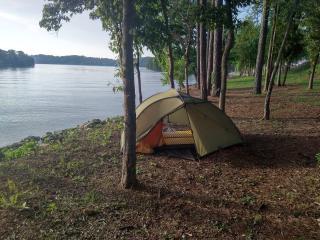 Um 10 Uhr sind wir bei der Autovermietung. Zu den 250 Dollar, die auf der Webseite errechnet wurden kommt noch einmal der gleiche Betrag für Versicherungen. Das kleinste erhältliche Fahrzeug ist ein Nissan Altima und erstaunlich groß. Wir fahren noch einmal zu Birgit und Arnie, es wird gepackt und los geht's.
Weiterlesen: Die Great Smoky Mountains und der Blue Ridge Parkway
Details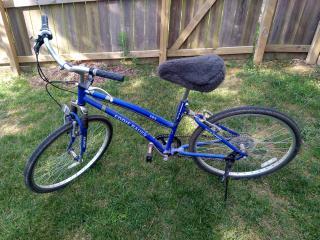 Arnies Mountain Bike ist ein wenig klein und hat Klick-Pedalen. Also leihe ich mir Birgits Rad. 28 Zoll, Shimano 7-Gang Gripshift, Lammfell auf dem Sattel. Das Rad scheint nicht oft gefahren zu werden. Ich muß Luft in die Reifen pumpen. Als ich losradel, zeigt das Thermometer angenehme 23 Grad.
Unterkategorien